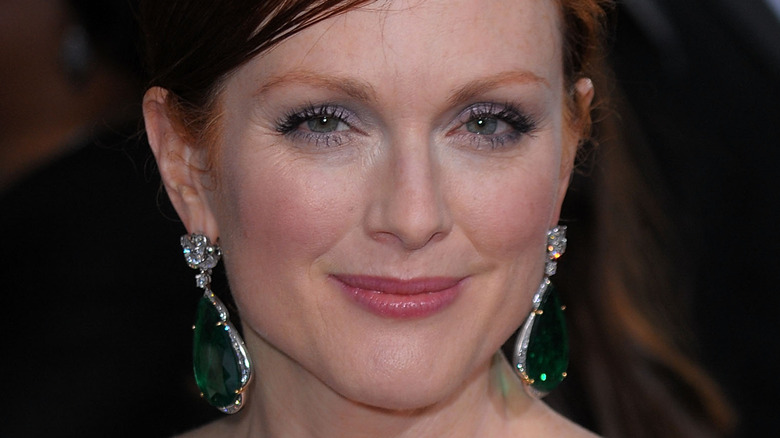 Jason Merritt/term/Getty Images
By Hannah LaFond/Sept. 3, 2021 11:23 am EDT
With her bold red hair and incredible acting ability, Julianne Moore is mesmerizing, which is probably why she's had such an illustrious acting career. Ever since her breakout role in 1993's "Short Cuts," the actress has continued to amaze and surprise audiences worldwide. Some of her most memorable roles were in "The Big Lebowski," "Boogie Nights," "Magnolia," and "Far From Heaven." She's been nominated for many awards, including four Oscars, one of which she won for her role in "Still Alice." She's also won an Emmy and a BAFTA, not to mention the many other accolades she has received.
With so many accomplishments and iconic films, most of us have probably seen her in dozens of movies. But, even so, there is plenty more to Moore than what you see in her films. And, as impressive as her acting career may be, the actress has many other priorities in her life, including her family, activism, and other creative projects. So, we've put together some of the most interesting and surprising things about her.
Julianne Moore grew up in a military family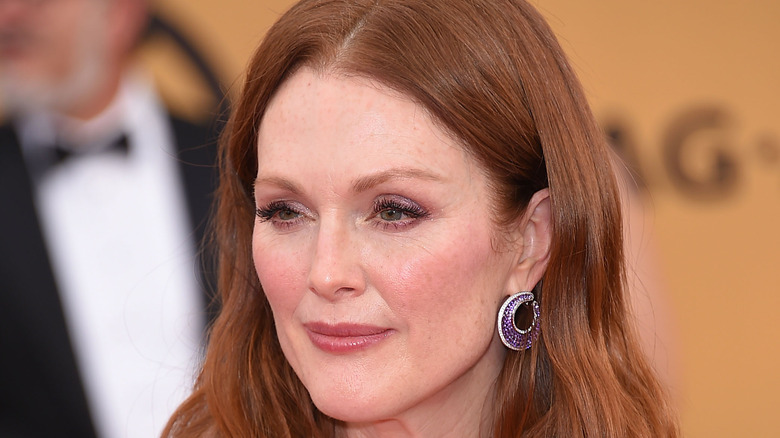 Julianne Moore's father was a military judge. Because of his military career, she told The Guardian, her family frequently moved throughout her childhood. By the time she graduated high school, Moore had attended nine different schools and lived in and out of the U.S., with most of her teen years spent in Germany.
Though moving around that much can be difficult for any child, Moore said she learned a lot from the experience. As she told The Guardian, "It's not something I'd recommend, but it made me who I am. You get very close to your family. It gave me adaptability, a sense of universality."
Moore discussed her family's military background further in an episode of the PBS show "Finding Your Roots." She told the interviewer, Henry Louis Gates Jr., that part of the reason her father joined the military was for "the adventure" and "to see the world." Moore also explained that living in so many different places gave her a broader view of the world from a young age.
She's lost money on some of her movies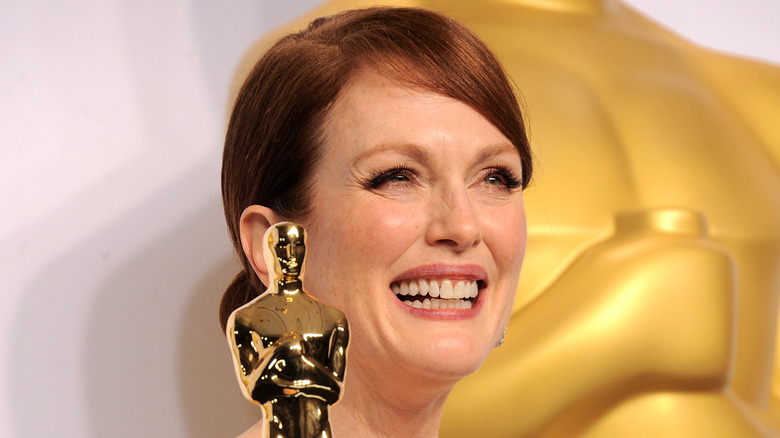 Throughout her incredible acting career, Julianne Moore has captivated audiences in big-budget blockbuster films like "The Lost World: Jurassic Park" and "The Hunger Games: Mockingjay." But she's also taken on low-budget projects like "The Kids Are All Right" and "Still Alice," for which she won an Oscar.
IndieWire quoted Moore discussing her work while at the London Film Festival. She explained that she doesn't make much — or sometimes any — money on indie projects. In reference to "The Kids Are All Right," she said, "It actually cost me money. Because you have to uproot your whole family. So some movies allow you to have a career and a regular job. And some movies you just do because you want to do them, but you're not getting paid."
Moore assured her listeners that she has enjoyed many of her movies that have seen greater box office success and explained how they gave her the opportunity to work with talented directors like Steven Spielberg, Ridley Scott, and Ivan Reitman. But, those more commercial films also help her to continue her indie passion projects. As she told Variety, "You need a commercial profile so that investors will invest in something smaller that I'm in. You can't make a living doing just indie films."
Julianne Moore is a stage name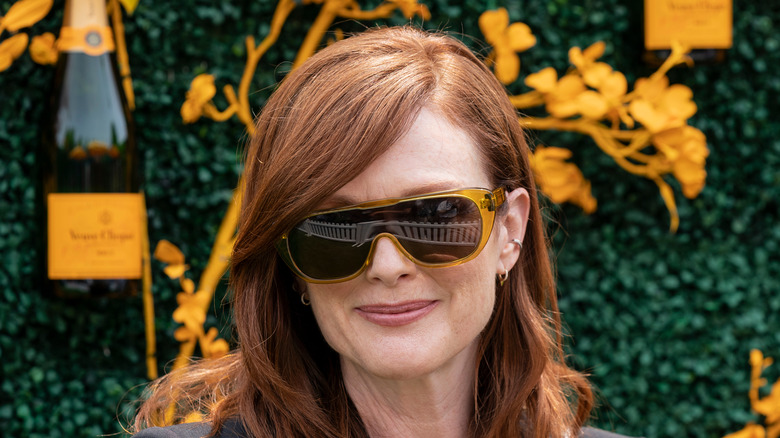 Julianne Moore has become a household name, so it's hard to picture the acclaimed actress going by anything else. But she was actually born as Julie Smith. Julianne Moore was a name she took on when she started acting.
Julie is fairly similar to Julianne, so you might be wondering why she changed it at all. As she told The New York Times, when she tried to register for Actors Equity, the name "Julie Smith" was already taken. So, she needed a stage name. The actress took her mother's name "Anne" and put it on the end of her actual first name to get "Julianne." Then she got the last name "Moore" from her father's middle name. "That way, I could use both of their names and not hurt anyone's feelings," she said.
We all know her by her stage name now, but Moore said it was a hard adjustment for her to make. "It's horrible to change your name. I'd been Julie Smith my whole life, and I didn't want to change it."
She's advocated for gun control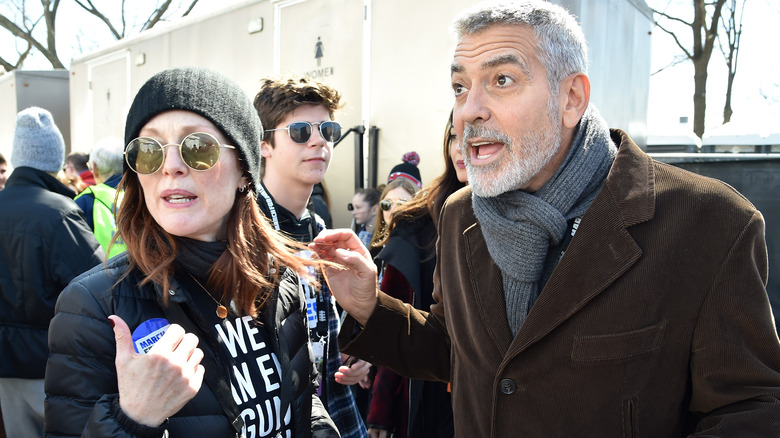 As a mother and advocate, Julianne Moore is passionate about reducing gun violence, and she hasn't shied away from publicly supporting gun control. In an article Moore wrote for Literary Hub, she said, "Traditionally, actors have been reluctant to talk about guns, because of the relationship in our culture between guns and entertainment." But, that hasn't stopped Moore from joining the conversation.
She's a part of Moms Demand Action, a grassroots movement that works to create stronger gun laws. Inspired by the organization's work, Moore also founded the Creative Council at Everytown, which brings together actors, musicians, and other creative individuals to speak out against gun violence.
Moore expressed how proud she is of the Moms Demand Action movement, which has grown from its humble beginnings as a Facebook group. "I am proud to be among the now thousands of volunteers, along with my now teenage daughter, working to change the culture of gun violence in the United States."
She's a British citizen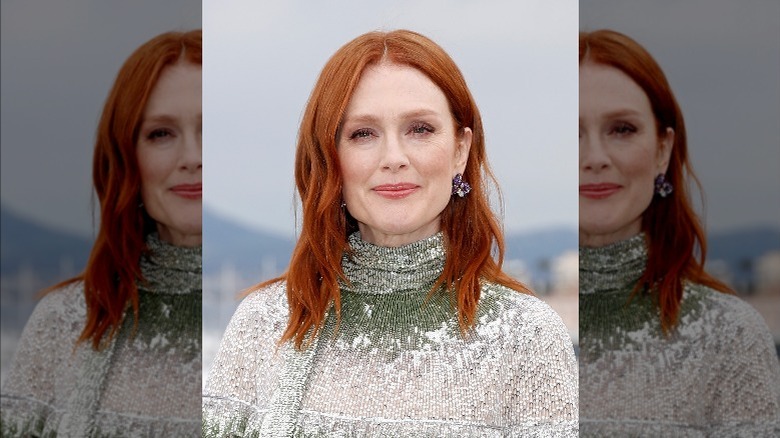 Julianne Moore's mother was Scottish, but Moore told the Daily Mail that her mother had to renounce her British citizenship when she became a U.S. citizen. Back then, you couldn't hold dual citizenship, and with her father's job in the military, it was important for her mother to be a U.S. citizen. "My sister and I both remember her coming home in tears carrying the American flag," Moore said. "I think it was devastating for people to have to renounce one thing to become another."
So, when her mother died at age 68, the actress decided to honor her memory by becoming a British citizen herself. Moore now holds dual citizenship in the U.S. and the U.K. Having both represents her U.S. military father and her Scottish mother. "My mother was very attached to her culture and identified as a British person, as a Scottish person," Moore said. Recalling her childhood, Moore remembered her mother telling her, "'You're not [100%] American.'" So, it seems fair that Moore's citizenship now legally expresses that same sentiment.
Julianne Moore has said she felt 'lonely' in her 30s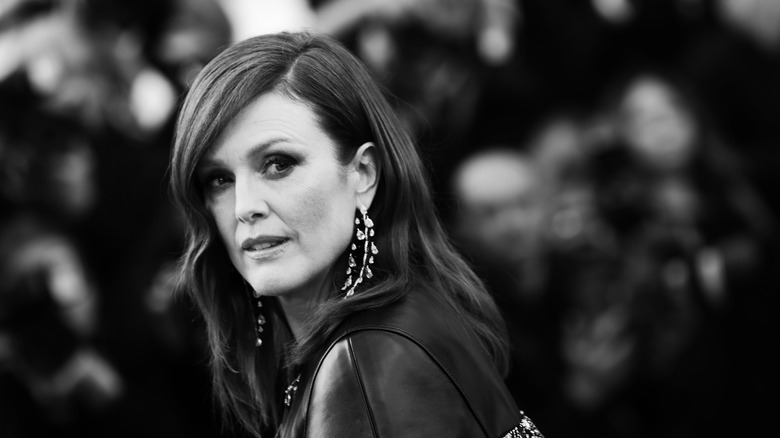 During her 30s, Julianne Moore's career was skyrocketing, but she admitted during an interview with The Hollywood Reporter that it was at a detriment to her personal life. "I was lonely," Moore said. "I don't think I felt happy. I didn't have the kind of personal life I wanted. I'd spent my 20s working hard and trying to get to wherever there was, which wasn't really anywhere. It was just a job, and I really wanted a family."
To combat her declining mental health, Moore went to see a therapist. She said it was because of therapy that she learned how important it is to put as much work into your personal life as your professional life, and she's worked to prioritize her family since. "There's an expectation that your personal life is going to happen to you, but you're going to have to make your career happen. And that's not true," the actress said. "You have to make your personal life happen as much as your career."
She's a children's book author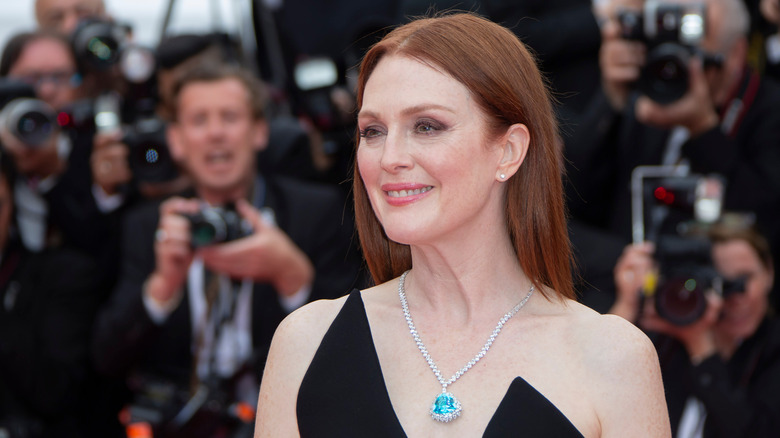 With how many acting roles she's had, you might be shocked that Julianne Moore has time for anything else, but she's also authored several children's books. Though this career move may seem surprising, Moore told Elle that she's always loved books. "When I was growing up, the place I felt least alone was when I was reading," she said.
Moore has written several books for her series "Freckleface Strawberry," all of which feature the same redheaded girl as the main character. She told Entertainment Weekly that "Freckleface Strawberry" was inspired by her own childhood nickname.
She took inspiration from her childhood again in 2013 when she published "My Mom is a Foreigner, But Not to Me," which, she told Elle, came from being raised by a Scottish mother. "I grew up with someone who has a very strong identification to another culture … All the things about my mother that were so familiar to me were very foreign to the world outside," Moore said. So, she wrote the book as a tribute to the children and mothers with the same experience.
Julianne Moore was a soap star back in the day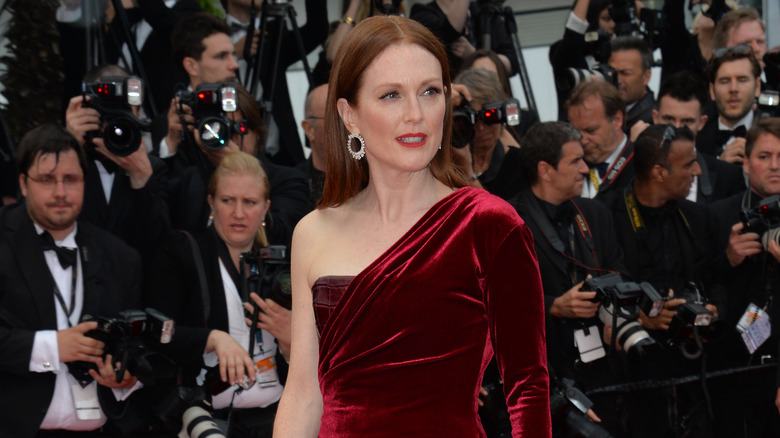 Before Julianne Moore broke into film, she — like a number of other celebs who got their start in soaps — appeared on the popular soap opera "As The World Turns." Moore didn't just play one character on the show either; she actually played two roles as a pair of half-sisters, Frannie and Sabrina. And, in true soap opera fashion, one of the sisters was evil while the other was good. In an interview on "The Late Late Show with James Corden," John Stamos and Moore talked about getting their starts on soaps. Moore explained that her two characters were actually half-sisters and cousins. "We had the same dad, and our moms were sisters. Ew!"
But, no matter how wacky the plot and characters got, Moore told Yahoo! that she was grateful to be on the show. "I don't know if I would call myself a soap star, but I felt really lucky to have a job, to be a working actor. So it was a very big deal that I was able to go to work every day and I could support myself, and I worked with a lot of really terrific people."
The actress asked to be in The Hunger Games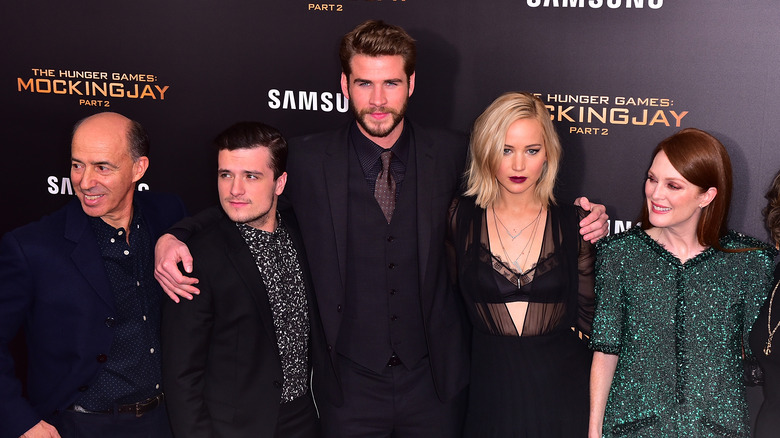 At this stage in her career, Julianne Moore probably gets offered plenty of parts, but she had to take the initiative and ask for one particular part: her role as President Coin in "The Hunger Games."
It was Moore's children who first introduced her to the series. She told Yahoo! that her son read them first, followed by her daughter, who brought one of the books with her on a family vacation. One day when Moore had nothing else to read, she borrowed it and found herself instantly intrigued by the story. "I tore through them," she said. "And then I thought, 'Oh, I think there's a part for me.' And I actually called and said, 'Who's playing President Coin?' Because I wanted to be part of the series." That's how she ended up being cast in the third and fourth films of the hit series!
She and Bette Midler are close friends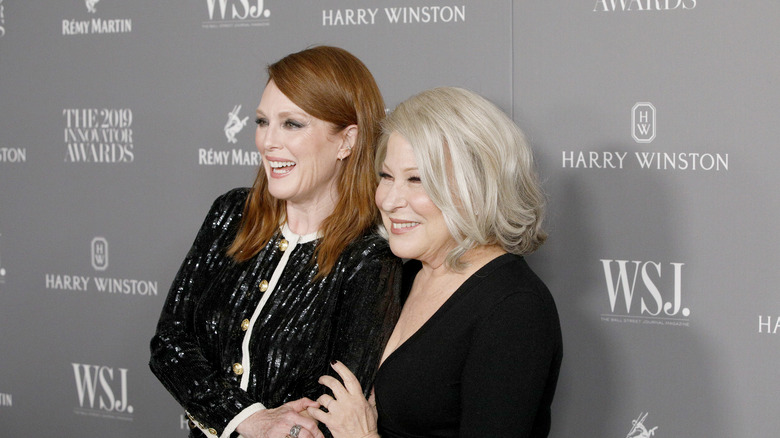 Julianne Moore met singer, songwriter, and actress Bette Midler on the set of "The Glorias." The film explores the life and activism of Gloria Steinem, with Moore playing Steinem and Midler playing Bella Abzug, both of whom were leaders in the feminist movement. During filming, the two women became very close — so close, in fact, that Midler presented Moore with a WSJ. Magazine Innovator Award for acting and activism in 2019.
While presenting the award, Midler gave a short speech about Moore that Page Six quoted. Midler said, "She's been my best friend for nine months. I love her." Since becoming friends, Midler said the pair of them had "trespassed, we've danced and sung, we've laughed our asses off."
Moore's new friend also made a point to share how deserving Moore was of the award. Taking a moment to compliment Moore's acting abilities, Midler said, "She's played both Gloria Steinem and Sarah Palin ["Game Change"]. There is a range between those two big enough to drive cattle."
Julianne Moore is a natural redhead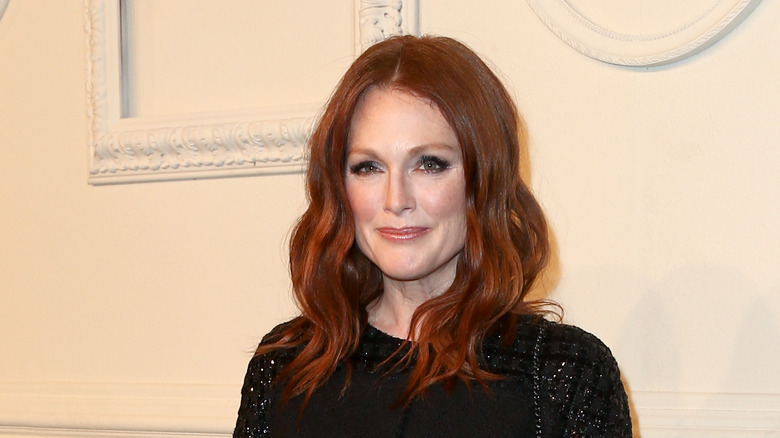 The most iconic part of Julianne Moore's look is her gorgeous red hair. During an interview with Stephen Colbert, he even referred to her as a "ginger icon." Other than a few of her movie roles, the actress has pretty much always sported a dark red mane. But have you ever wondered if it's natural? After all, it's so beautiful it wouldn't be at all surprising for someone to want to dye their hair that shade of auburn.
However, Moore assured Redbook that she's a natural redhead. She said she only started dying her hair within the last few years to cover up grays because she's "not ready for that yet." She also mentioned trying blonde highlights while in her 30s but not liking the way they looked.
During the same interview, Moore said that she's always felt a "kinship" to other redheads when she sees them in public. "Whenever I see one on the street, I nod or say hello. I feel like there's a redhead collective—you notice each other."
She's worked on set with her husband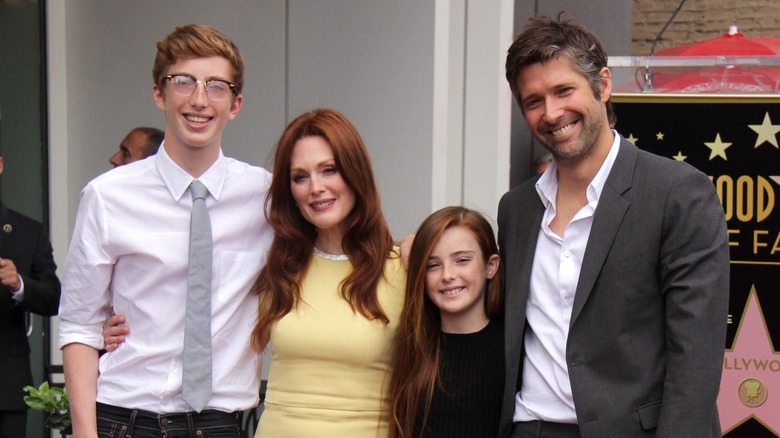 According to People, Julianne Moore first met her husband in 1996 on the set of "The Myth of Fingerprints," with Moore playing the leading role and her now-husband Bart Freundlich directing. The pair began dating while shooting the film, and their relationship has stood the test of time. They were married in 2003, and they have two children together.
Since meeting on set, the couple has also worked together as actor and director three more times. Most recently, the pair joined creatively for the 2019 film, "After the Wedding." Freundlich wrote and directed the film, while his wife played one of the leads, Theresa Young.
Discussing what it was like to work with her husband again, Moore told People that it didn't feel "out of the ordinary." She went on to say, "If anything, I'm highly sensitive to his moods, and so I know when things are bothering him."
The redhead has raised awareness about HIV/AIDS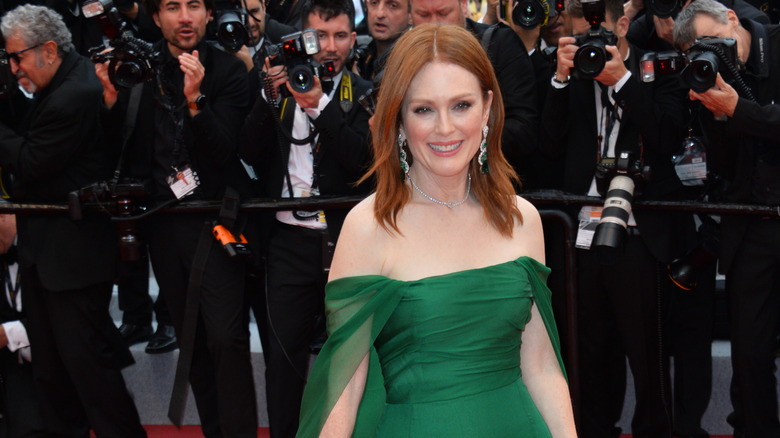 A cause that's close to Julianne Moore's heart is raising awareness for HIV/AIDS. In 2019, the actress promoted the documentary "5B," which tells the stories of those who cared for AIDS patients in the 1980s. During her promotion of the film, Moore shared with Reuters that she lost a friend to the disease. Moore was "shocked" by her friend's death, though she knew many more who suffered from the virus as the years went on. "By 1985, a lot of people I knew were sick," she said. "And by ['88], I was caring for somebody in a ward … I saw this movie and was so incredibly moved."
Moore also worked with Sia and Zoe Saldana in 2017 on a project to raise awareness and funds for #endHIV. The three joined forces to make a video where Saldana acts and dances, SIA sings, and Moore narrates. According to E! Online, they gave all proceeds to #endHIV.
Acupuncture has helped Julianne Moore through various health concerns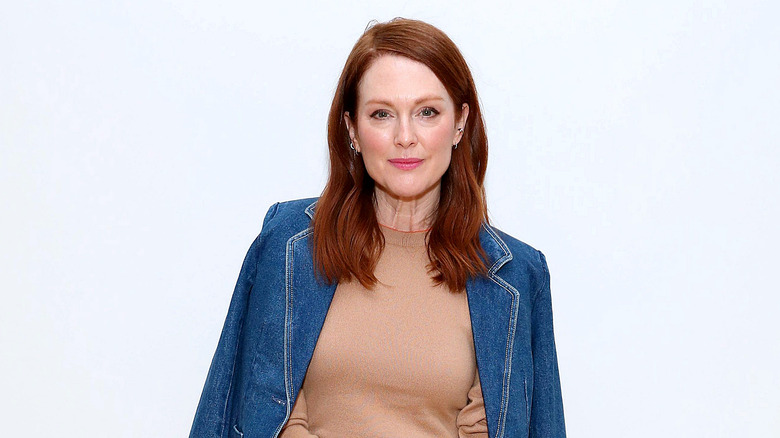 In an interview with Health, Julianne Moore talked openly about her health journey and how she tries to stay in shape with her diet and yoga. Moore also shared her use of alternative medicines such as acupuncture and traditional Chinese medicine.
She said that acupuncture has eased her back pain and has even helped her get through the loss of her mother. "I was just in shock for the longest time [after her mother's death] and didn't sleep for, like, a year. I was just a wreck. And I had some really intense acupuncture treatments, and it kind of reset my nervous system," Moore said.
The actress also told Health that while shooting the 1995 film "Safe," she lost an unhealthy amount of weight. "I got so thin that I stopped having my period, and my blood pressure got dangerously low," she said, "And the only thing that really got me back to normal was Chinese medicine."
Source: Read Full Article