A leading independent candidate told a Chinese community group Australia was "arrogant" not to accept an "olive branch" from Beijing in comments that have prompted further Coalition attacks on the Climate 200 independents' foreign policy credibility.
North Sydney candidate Kylea Tink, one of the so-called 'teal' independents who is receiving aid from Simon Holmes a Court's Climate 200, has fronted a number of Chinese organisations and networks in her bid to win the seat from Liberal MP Trent Zimmerman.
Independent candidate for the electorate of North Sydney, Kylea Tink.Credit:James Brickwood
A short, highly edited video circulating on Chinese social media shows Tink at a gathering two or three weeks ago where she was asked what could be done to improve the perilous state of relations between Australia and China.
"The first step is reopen the dialogue and recognise that that is an olive branch and we are being arrogant to not accept it," she said. It was not clear from the edited video to what olive branch she was referring.
"The second thing is to have people like myself and Nicolette [Boele] going into that house [of parliament] and saying 'actually, this is our community'," Tink said, gesturing to her audience.
Boele is the independent candidate for Bradfield, also on Sydney's north shore, who attended the same event and was standing next to Tink in the video. She told the audience Australia was at a crossroads with our democracy, with our relationship in the region, so many issues, because the government of the day is asleep or maybe incompetent".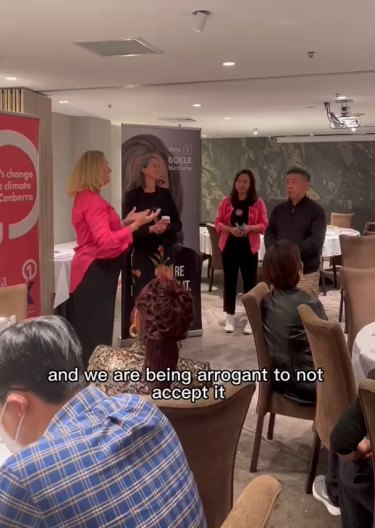 Kylea Tink and Nicolette Boele spoke at a function in Chatswood. The video was circulating on social media.Credit:LinkedIn
"Arrogant" is a term frequently used by the Chinese Communist Party and its mouthpiece media to describe Australia, including in a December 2021 Global Times article which said the Morrison government's diplomatic boycott of Beijing's Winter Olympics demonstrated its "arrogance and immaturity in dealing with geopolitics".
The video emerged after the Herald revealed on Thursday that Tink and Boele attended a gala dinner fundraiser for a Chinese community organisation, Alice in Wendyland Charity Ltd, where Boele accused the Morrison government of being "unable and unwilling to pick up the phone to Beijing".
Tink did not mention China during her speech at that event, but while she was on stage a translator told the audience: "We want to change the government, we want to change the relationship between China and Australia. We need your vote and we need your support."
Tink declined an interview but told the Herald in a statement: "I will continue to engage with the Chinese community and believe it is in Australia's interests for our relationship with China to be more constructive in the future".
Zimmerman declined to comment on Tink's remarks.
Coalition campaign spokesman Simon Birmingham said the candidates had "questions to answer" over that event.
Bradfield independent candidate Nicolette Boele and North Sydney independent candidate Kylea Tink at the Alice in Wendyland gala dinner.Credit:Social media
Liberal senator James Paterson, who was chair of the previous parliament's Joint Committee on Security and Intelligence, said the most recent video to emerge was "yet another example of how dangerously misinformed Climate 200 fake independents are about the serious national security challenges facing our country".
Paterson said Tink should "specify exactly which concessions she would offer the CCP" and "which of their 14 demands she would give in to", referring to the infamous list of 14 grievances a Nine journalist obtained from a Chinese embassy official in 2020.
China experts have said that simply telling the government to "pick up the phone" to Beijing is too simplistic, but at the same time, legitimate criticism can be made of the Australian government's position and tactics.
Professor James Laurenceson, director of the Australia-China Relations Institute at the University of Technology Sydney, said it was bizarre for the government to suggest that saying we should have better relations with China was "somehow treacherous or parroting CCP talking points".
North Sydney – where 10.4 per cent of the population had Chinese ancestry at the 2016 census – is held by Zimmerman on a margin of 9.3 per cent. The seat has never been won by Labor, though popular independent mayor Ted Mack held it for two terms in the 1990s.
Labor typically receives a bigger share of the vote in North Sydney than in seats such as Wentworth or Warringah and polls show Labor's Catherine Renshaw, a professor of human rights law, could be victorious if Tink comes in third and preferences flow her way.
Renshaw declined to comment on Tink's remarks.
Cut through the noise of the federal election campaign with news, views and expert analysis from Jacqueline Maley. Sign up to our Australia Votes 2022 newsletter here.
Most Viewed in Politics
From our partners
Source: Read Full Article