The social media star, who posts as Growing With Kelsey to her 2.5 million followers, defended her anger following her former partner Devin Williams' death — saying "I always knew because some leopards can't change their f–king spots. I am just so thankful that my daughter made it back safely."
TikTok star Kelsey Pumel is speaking out on her complicated feelings following the murder of her ex and the the father of one of her children — defending her decision to take to her page and express her anger toward the situation and her former partner.
On Monday, the Indianapolis Metropolitan Police Department responded to call and found a male with gunshot wounds who was pronounced dead at the scene. Per PEOPLE, it was initially reported as a self-inflicted shooting, before being classified as a homicide after further investigation.
"One person has been detained and IMPD is not actively looking for any additional people. Investigators believe all involved parties have been identified," the department also told the outlet. The coroner later identified the victim as Devin Williams, per WTHR, who shared a daughter named Kobe with Pumel.
Waiting for your permission to load TikTok Post.
TikTok Post Unavailable
In a pair of emotional videos shared to her account this week, Pumel first reacted to his death with anger, before defending said anger in a followup post.
"Please keep Kobe in your thoughts & prayers tonight as she works through grieving this incredible loss 💔" she captioned her first video.
"Kobe's dad died, so we've had a bit of a rough day. I'm not ready to speak on what happened. I am currently in the anger phase. I'm so angry. I'm so angry with him," she began, in tears throughout the footage.
"I did everything right. I fought so hard and did everything right so she wouldn't have any trauma and he just left her with a lifetime full of it and I can't protect her from this," Pumel continued. "She knows, we've talked about it and we are working through it. It's coming in waves … I'm just gonna need a second to work through this anger. Just keep Kobe in your prayers. My heart is just so broken for her."
In the comments for a different video showing her daughter laughing and playing with her family, she responded to a fan who wrote, "All I can think of is THANK GOD Kobe was with you when it happened. Praying for her!" Pumel replied, writing, "If you only knew how true this statement is knowing what I know now."
Waiting for your permission to load TikTok Post.
TikTok Post Unavailable
Pumel elaborated on that comment a bit in another post later in the week, with a video she captioned, "My only job in this world is to love and protect my babies. Knowing my girl was put in unsafe situations and the timelines falling so close to when she was there visitng have my stomach in KNOTS! Im angry! And im VALID in that anger."
In the footage, she responded to people "confused as to why I was so angry and am so angry," adding that she will "probably stay in this state of anger for eternity."
Speaking of Williams' death, she claimed "there's a lot more to it than people realize and it's not something you really should be telling a six year old. I don't know how to discuss it with my daughter yet."
She went on to claim that Williams repeatedly violated the custody agreement they allegedly had in place, adding that "the violations do end up tying into the inevitable outcome." Pumel claimed she found out from both her daughter and her ex's current girlfriend that he was having unsupervised visits with Kobe, which allegedly was not allowed. She also said he was bringing another woman around their daughter who, according to the alleged agreement, Kobe was "absolutely not to be around" due to the pair's "very volatile relationship."
Lawyer Claims 'Road Rage' Incident Led to Horrific Crash Killing 4 Pepperdine Students
"He would have lost all custody rights if it didn't end the way it did. I'll give you one guess who he was with the last night of his life and you can decide what you think happened," she said.
"So we're gonna stop with the 'Kelsey's not allowed to be angry,' because I am more than allowed to be angry and I will probably be angry for the rest of my life," Pumel continued, saying "Devoted fathers don't risk losing their kids over a woman" and "devoted fathers do not put their children in unsafe situations with unsafe people."
She concluded her video saying, "So no, I'm gonna stay angry forever because my daughter deserved better. At the end of the day, I always knew that this would end in prison or death. I always knew because some leopards can't change their f–king spots. I am just so thankful that my daughter made it back safely."
Her original video has been viewed more than 9.2 million times, while the followup one has garnered nearly 3-million views.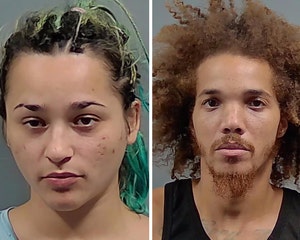 'Unorthodox Date': Duo 'Took Turns' Slashing Man's Throat Before Throwing Him Over Bridge, Police Say
Source: Read Full Article