Former President Donald Trump and his wife Melania Trump have never seemed to have the warmest marriage in the world. Following Donald's election loss to Joe Biden, divorce rumors swirled, and Melania has hardly been seen in public since her move to Florida in January. However, despite Melania's apparent lack of interest in politics, her husband has repeatedly teased another run for president in 2024. 
According to sources close to Melania Trump, the former first lady isn't that interested in returning to the White House. If Donald Trump decides to run for President in 2024, CNN reported on September 5 that Donald Trump Jr. or Eric Trump is more likely to hit the campaign trail with their dad while Melania stays behind with teenage son Barron. Sources claim that Melania has "zero desire" to head back to Washington. "Being first lady again is not what she wants," said one source close to the former first lady. "For her, it was a chapter — and it's over, and that's that."
But if Donald does decide to run for President again in 2024, can he count on Melania to be at his side? Keep reading to learn more.
Was Melania Trump really ever that into politics?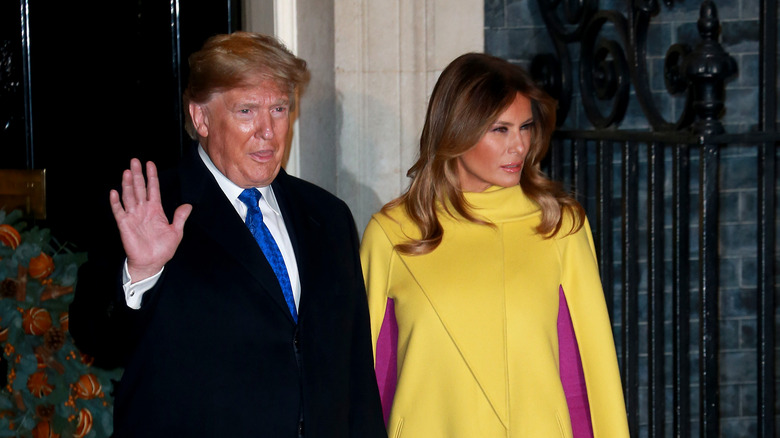 While former President Donald Trump ponders a 2024 campaign, his wife Melania Trump doesn't seem too keen on another White House run. However, sources close to the Trump family told Politico that the former first lady would still support her husband if he decided to run again. "If [Trump] runs, she will be right there," the source claimed. "She's not going to have her own rallies, but did she ever?" However, another source did offer a potential roadblock when speaking to the outlet. "The only thing that Trump cares about these days is golf and Melania. And if she doesn't want him to run, then it's going to be pushing a big rock up the hill," they said. "I don't think politics is her thing. She doesn't like the game." 
This news comes about a week after CNN reported that Melania would not be an active member of the campaign if Donald ran again, writing that people would not see Melania "at rallies or campaign events, even if he 'officially' says he's running again." While some in the family have the same "urge" as Donald to hit the campaign trail, "Melania absolutely does not." The former first lady is a private person, maintaining a low profile after four years as a public figure. It seems as if she'd like to keep it that way — but could make an exception.
Source: Read Full Article