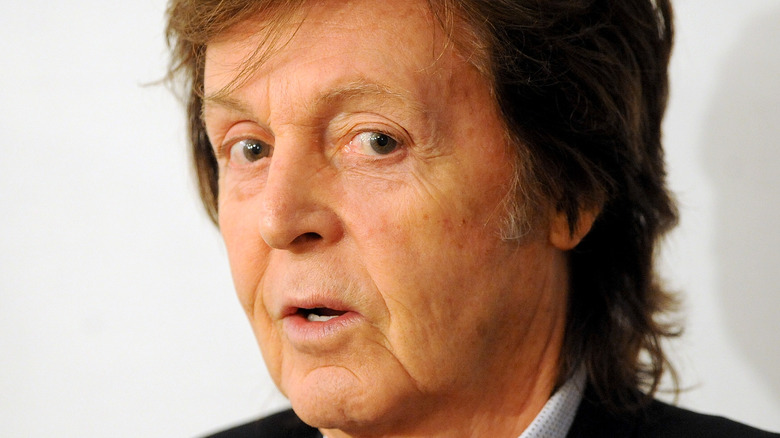 Paul McCartney is one of the most famous musicians of all time. The former Beatle was adored by millions as a part of the "Fab Four" and has had a love life nearly as iconic as his music career, per Ranker. McCartney is one of the original members of The Beatles, which also included John Lennon, Ringo Starr, and George Harrison. The band crashed onto the music scene in the early 1960s before taking America by storm in 1964 (via Your Better Life).
Over the years, McCartney has made headlines for his brilliant songwriting and smooth voice, as well as his sometimes tumultuous personal life. The musician entertained romances with many women over the years from fans and groupies to models and actresses. He's had a string of flings as well multiple marriages and has even endured great heartbreak in the romance department. Despite the years passing, McCartney's relationship status has always remained a topic of interest to his fans.
Paul McCartney's first love was actress Jane Asher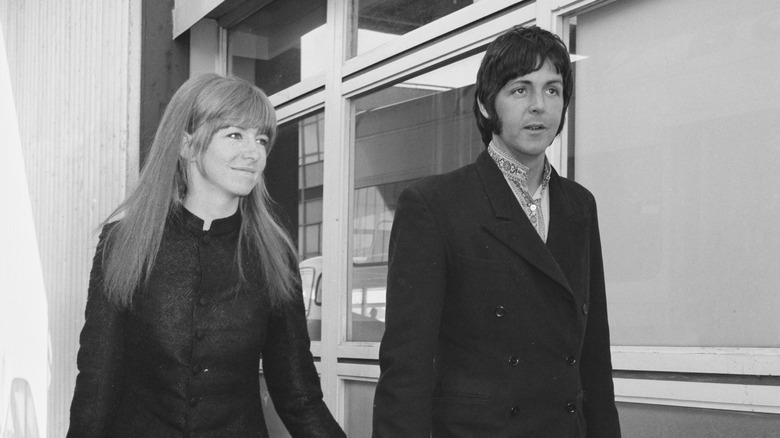 According to Express, Jane Asher was said to be Paul McCartney's first love. The young actress met The Beatles in April of 1963 at Royal Albert Hall. She reportedly caught McCartney's attention. The two eventually entered into a serious relationship that lasted for five years and were even briefly engaged during their romance. Asher is still credited for influencing The Beatles' sound. The couple eventually split, and Ashler stunned fans when she announced the breakup on live television. It was also said that other members of the band such as John Lennon also harbored romantic feelings for the actress during her relationship with McCartney.
After the relationship ended, McCartney touched on his time with Ashler. "I met Jane Asher when she was sent by the Radio Times to cover a concert we were in at the Royal Albert Hall — we had a photo taken with her for the magazine and we all fancied her," he admitted (via Express). "We'd thought she was blonde, because we had only ever seen her on black-and-white telly doing Juke Box Jury, but she turned out to be a redhead. So it was: 'Wow, you're a redhead!' I tried pulling her, succeeded, and we were boyfriend and girlfriend for quite a long time."
Paul McCartney regularly romanced actress Peggy Lipton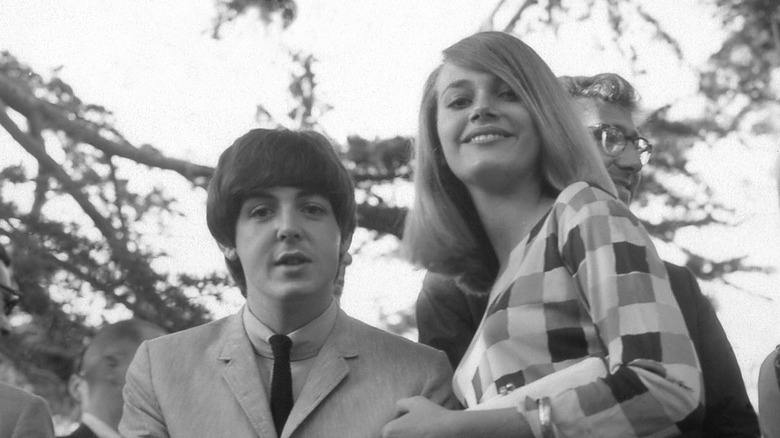 Despite Paul McCartney and Jane Asher's serious relationship, the singer was allegedly unfaithful to the actress. In 1964, McCartney and Asher were spotted out together just days after the singer had reportedly spent multiple nights with then-teenage actress Peggy Lipton, per the NY Daily News. Lipton is best known for her role on the television series "The Mod Squad." The actress, who later married iconic producer Quincy Jones, was said to often share regular trysts with the musician over the years.
In a guest post for The Wrap, writer Ivor Davis, who famously traveled with The Beatles during their first American tour in 1964, opened up about McCartney and Lipton's romance. "He was then dating the actress Jane Asher, who was home in London — but that didn't stop him from having a secret fling with young Hollywood actress Peggy Lipton, who told me at the time that Paul told her he wanted to marry her," Davis revealed back in 2012.
Paul McCartney was married to Linda Eastman for 30 years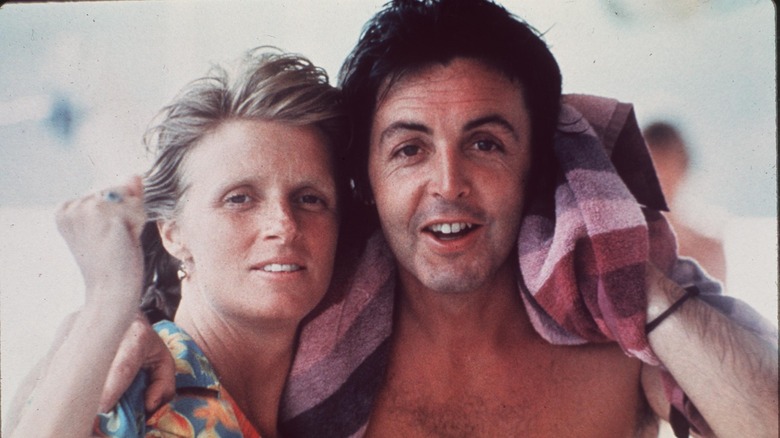 After officially calling it quits with Jane Ashler, Paul McCartney reconnected with photographer Linda Eastman during a trip to New York City in 1968. Eastman and McCartney had a whirlwind romance and tied the knot after only six months of dating (via the NY Daily News). Despite McCartney's reputation for being unfaithful to the women in his life, reports suggest that he never strayed while married to Eastman. "When she came to Britain and we got together the greatest thing about it was we both wanted to be free. We did what we wanted and she took pictures of it all," McCartney later told the BBC of his time with Eastman.
The couple shared three children together: Mary, Stella, and James. They were married for 30 years until Eastman died from breast cancer in 1998 at the age of 56. Following Eastman's death, McCartney was devastated. "I think I cried for about a year on and off," he said. "You expect to see them walk in, this person you love, because you are so used to them. I cried a lot. It was almost embarrassing except it seemed the only thing to do."
Paul McCartney married Heather Mills and later endured one of the most expensive divorces of all time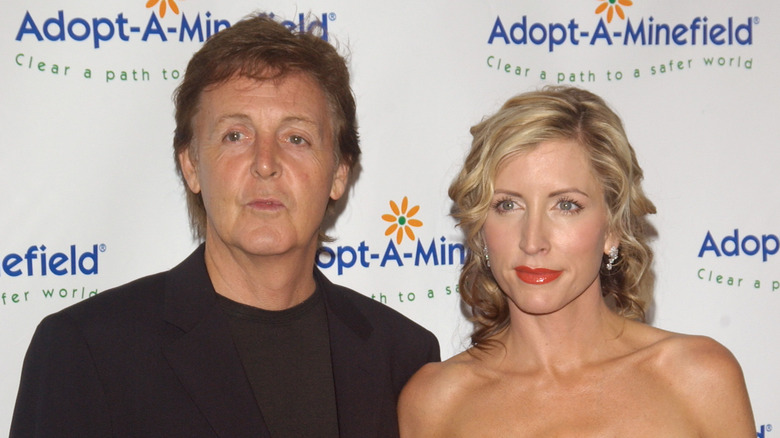 One year following Linda Eastman's death, Paul McCartney attended a function where he presented an award in his late wife's name. It was there that he met Heather Mills. The former model had made a name for herself by telling the story of how she lost part of her leg in a collision with a police motorcycle. Mills sold her story and wrote a memoir titled "Out on a Limb," while campaigning against land mines, per the NY Daily News. The couple married in 2002 and welcomed a daughter named Beatrice together (via Ranker).
However, the romance was said to be a volatile one. During the couple's relationship Mills and McCartney's daughter Stella allegedly butted heads. "Every week [Stella] tried to break up our marriage," Mills eventually stated (via The Things). "She was so jealous. She wasn't interested in her dad's happiness. I can't protect her any longer. She's done some evil, evil things." 
Eventually, reports of constant arguments between McCartney and Mills began to emerge, and when the couple finally decided to divorce in 2006, Mills walked away with a huge settlement of over $48 million, per CNN. The divorce was a messy one and went down as one of the most expensive divorces of all time.
Paul McCartney was linked to a string of women before settling down with third wife Nancy Shevell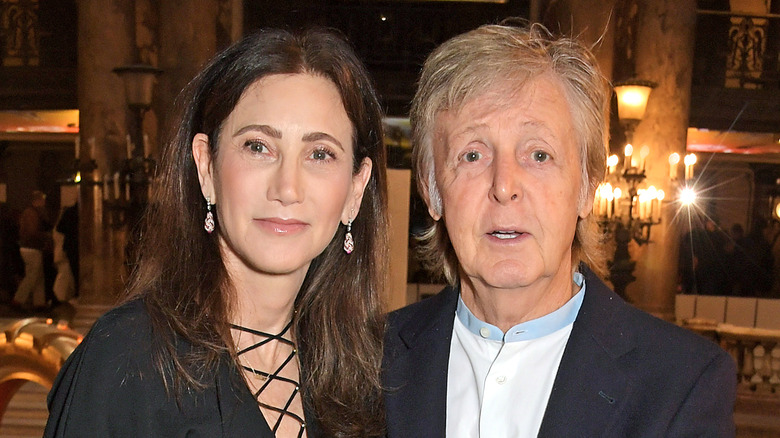 Following his split with Heather Mills, Paul McCartney found himself back on the market. During that time, he was romantically linked to actress Rosanna Arquette, whom he was spotted kissing in public, per Ranker. That same year the singer also allegedly went on several dates with "Jerry Maguire" actress Renee Zellweger. During that time, the iconic musical was also spotted getting flirty with model Elle Macpherson during the GQ Men of the Year Awards. He was later seen dancing with model Christie Brinkley when the pair attended a James Taylor concert that same year.
In 2008, McCartney found himself taken with New York businesswoman Nancy Shevell. The couple began dating during McCartney's divorce battle with Mills (via the NY Daily News) and the singer popped the question in May 2011. The pair married a few months later at Old Marylebone Town Hall, where he married his first wife, Linda Eastman. A year later, McCartney wrote the song "My Valentine" about Shevell. 
The couple is still married and reportedly going strong, per Hello!. Although the women at his side may have changed through the decades, one thing has remained the same: McCartney's ability to produce hit music that speaks to his multi-generational fans.
Source: Read Full Article