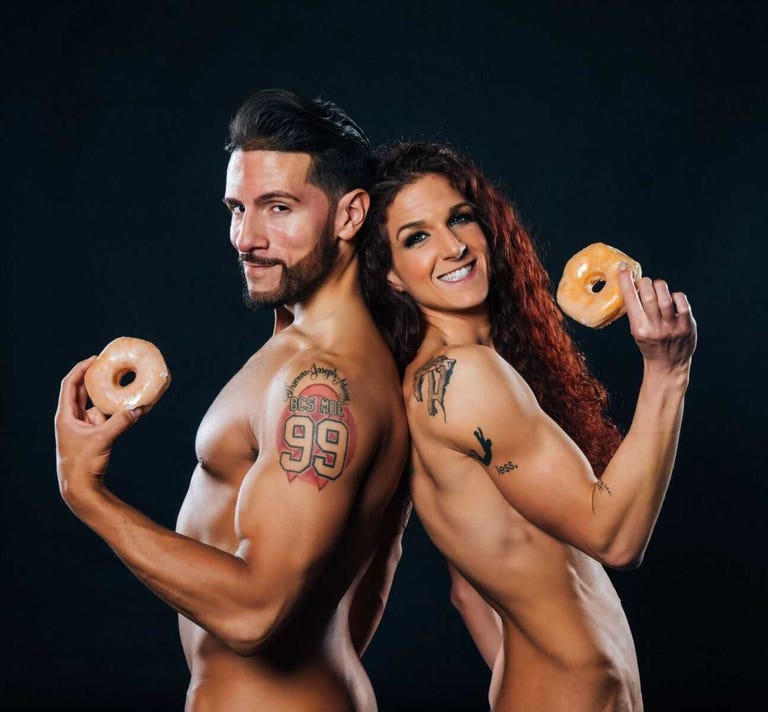 Sarah Reinecke and Juan Rodriguez were going to a party on Saturday night, which meant they had to eat the hot dogs on Friday morning — it was the only way they'd have enough time to recover. That morning, they cooked up around 60 hot dogs, setting aside 24 for Sarah and somewhere between 30 and 40 for Juan.
"We just went to town," Rodriguez says.
They're both fit personal trainers, but that weekend, the long-distance couple had gotten together to train for Nathan's Famous International Hot Dog Eating Contest on the Fourth of July. When they hop on the phone with MensHealth.com — Reinecke from Washington and Rodriguez back home in Illinois — the pair are just under two weeks out from what's known as the biggest competitive eating event of the year. "It's the equivalent of the Super Bowl," Reinecke says. "It's as big as it gets."
If you're not familiar with the quintessentially American spectacle, the annual contest sees the world's top competitive eaters chowing down on as many hot dogs as possible within a 10-minute time frame. In 2017, Reinecke and Rodriguez each finished 8th in the women's and men's categories, with 15 and 33 hot dogs, respectively.
"I really want to do much better this year," Reinecke says.
"You're going to do much better," Rodriguez assures her.
"It's the equivalent of the Super Bowl. It's as big as it gets."
Rodriguez is the more seasoned competitive eater between the two of them. Around 10 years ago, he faced off against his brother and cousin in an impromptu eating challenge on Easter Sunday. Pancakes, eggs, biscuits, potato salad — "Whatever there was, we just kept eating," Rodriguez recalls. "I was the only one who made it through the final round, and I thought, 'Maybe I could do this.'"
Inspired by Man Vs. Food, he started doing restaurant challenges. Once he got the hang of them, he registered for local eating competitions — and won easily.
Working around his day job as a personal trainer, he started traveling to eating competitions around the country. After a few failed attempts at qualifying for Nathan's — yes, you have to prove that you're worthy of vying for hot-dog-eating glory — he finally made it in 2013. He placed 12th, taking down 26 hot dogs.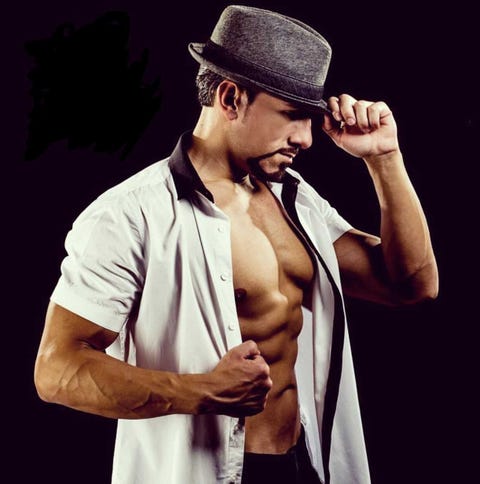 Juan Rodriguez.

Courtesy of Sarah Reinecke and Juan Rodriguez
The competitive eating community is a close-knit "weird family," according to Rodriguez. So when he heard that a newcomer named Sarah Reinecke had wowed audiences at a peach-eating competition in Maryland, he reached out on Instagram. They started talking every other day — "about hot dogs, working out, and random movie quotes," Rodriguez remembers. Shortly after the peach-eating contest, Reinecke qualified for Nathan's, too.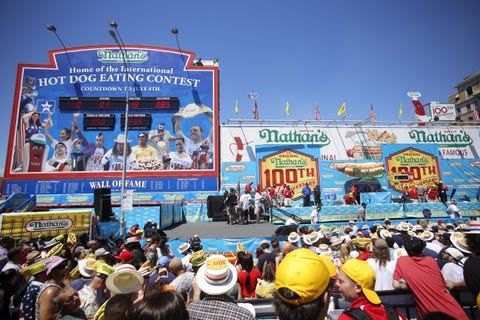 The Nathan's Famous International Hot Dog Eating Contest.

Andy Katz/Pacific Press/LightRocket via Getty Images
Reinecke, also a personal trainer, had always been the friend who could put back unfathomable amounts of pizza at the end of a night of drinking — when she wasn't training for fitness competitions, that is. She spends half the year as a competitive bodybuilder, being careful about what she puts into her body. "The running joke with my friends is that half the year I have this amazing self control, and the other half of the year is when the beast is off her chain," she says.
Someone suggested she try competitive eating, and so a couple of years ago, she flew across the country for that peach-eating contest.
"It lit that fire that maybe there was potential there," she says. "And then I met Juan."
After talking online for a few months, they finally met in person at a hotel gym in New York City on July 3, 2017. They were both competing at Nathan's the following day. She and Rodriguez hit it off after the big contest, staying up until the wee hours of July 5 talking and getting to know each other. She discovered the real Juan was a far cry from Juan "More Bite" Rodriguez, the cocky persona he put on at eating competitions.
"I did not think I would meet the love of my life after a competitive eating event," Reinecke says, "but you don't get to choose who you fall in love with."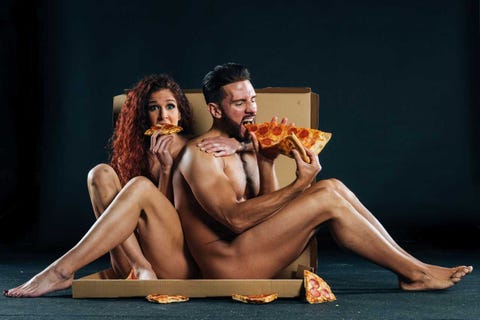 Sarah Reinecke and Juan Rodriguez.

Courtesy of Sarah Reinecke and Juan Rodriguez
There are at least two fundamental skills that any Nathan's competitor must master: eating quickly, and making space in your body to physically fit all those hot dogs.
The couple has techniques for stretching our their stomachs in the lead-up to big events. Rodriguez does water training, challenging himself to chug up to 2 gallons in 10 minutes. Reinecke isn't a fan, so she stuffs her stomach on a nightly basis with 7 or 8 pounds of vegetables and salad — low-calorie foods that won't make her gain a lot of weight. "You just do a little more every day, so when it's game day — as they call it — you're ready to go," she says. They each practice with actual hot dogs once a week; the rest of the time, Reinecke describes her diet as "limited and structured to balance out [that] insane amount of calories."
Given the extreme amount of food they consume, people may wonder how the fitness professionals stay in such good shape. "We're in the gym working out every single day to ensure that this hobby doesn't negatively impact our bodies," Reinecke explains. She does cardio twice a day and weight training five days a week; he lifts seven days a week, plus 45-minute cardio sessions.
"Right now, as sad as it may sound, it's work out, work, hot dogs. That's how it's going to be for the next two weeks," Rodriguez says.
Many competitive eaters put work into staying fit. Yasir Salem, who placed 9th at last year's Nathan's contest, is a cyclist and marathon runner. Michelle Metz, who came in 2nd last year, once told WomensHealth.com that she runs and plays volleyball. "Eating 30 hot dogs makes me want to go out and go on a run," she said in the 2014 interview.
If there's one thing Reinecke wishes people understood, it's that competitive eaters aren't necessarily out-of-shape and unhealthy. "In our case, they're two people who are very dedicated to their bodies and their nutrition," she says.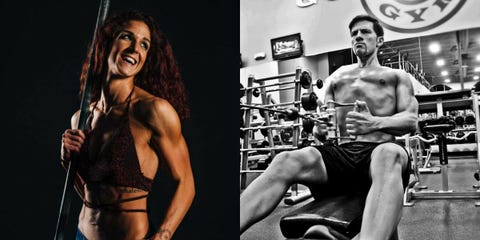 Sarah Reinecke and Juan Rodriguez.

Courtesy of Sarah Reinecke and Juan Rodriguez
When they're not training for the Fourth of July, the couple goes to other eating contests together, chowing down on pizza and gyoza dumplings. (In case you were curious, Rodriguez once ate 181 of the latter in 10 minutes.) They both say pie is one of their favorite things to compete with, because they love sweets; that crawfish and oysters are inarguably the worst, because they hate seafood; and that the competitive eating circuit is where they're truly meant to be — even if it's punishing on their bodies.
"It's an adrenaline rush — a competitiveness," Rodriguez says. "It's the same mentality as a fighter: Why do you get into a cage when you know you're going to get punched in the face several times?"
"It's crazy, but I love it," he adds. "Once you get the taste, you're like, 'This is it.'"
This year at Nathan's, Rodriguez's goal is to eat 40, maybe even 45 Nathan's hot dogs. "I know I'm capable of it," he says. "Last year I hit 33 and I wasn't at capacity, because I knew my body could hold more. I just need to get faster."Reinecke's goal is to crack the top five.
Whatever happens on that hallowed Coney Island stage, at least the couple will have something to look forward to: Rodriguez is moving to Washington in August, ending the couple's spate of long-distance dating. It was supposed to happen even sooner, but something got in the way.
"I pushed off the move by a week," he says, "because she insisted I do an ice cream eating contest in Indiana."
Source: Read Full Article