Scarlett Johansson called out James Franco in an impassioned speech at the Women's March in Los Angeles.
The 33-year-old Rough Night actress took to the stage in light of the recent Hollywood scandal to lend her support to the movement. While the speech centered on the issues as a whole, she also took the time to call out one person in particular. "My mind baffles," she said. "How could a person publicly stand by an organization that helps to provide support for victims of sexual assault while privately preying on people who have no power? I want my pin back, by the way."
PREVIOUSLY: JAMES FRANCO DENIES HARASSMENT CLAIMS 
While Johansson didn't refer to James Franco by name, it was later confirmed by her representatives that she was talking about The Disaster Artist actor, who wore a Time's Up pin to the Golden Globes. Franco has been accused by several different women of inappropriate sexual behavior in the past few weeks. Actress Ally Sheedy was the first to speak out with a series of cryptic tweets during the Golden Globes ceremony, where the star won the Best Actor award for his latest movie. The popular 80's actress hasn't publicly explained her now-deleted posts.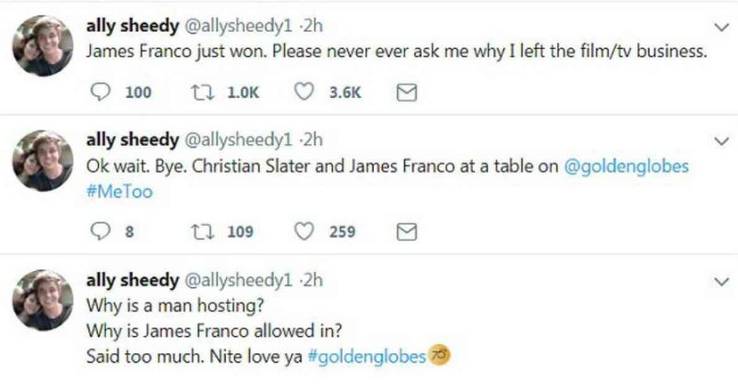 During an interview on The Late Show with Stephen Colbert after the Globes, Franco addressed the controversy. "The things that I heard that were on Twitter are not accurate, but I completely support people coming out and being able to have a voice because they didn't have a voice for so long. So, I don't want to shut them down in any way. It's a good thing and I support it," he stated.
The reports have divided Hollywood. Ashley Judd, a prominent figure in the Me Too movement praised him for his responses in the Colbert interview. At the Screen Actors Guild Awards this past weekend, Franco's sister-in-law and GLOW star Alison Brie also jumped to his defense. "Not everything that has been reported is fully accurate," The brunette beauty told a reporter when asked. "So, I think we're waiting to get all the information. But of course now is the time for listening and that's what we're all trying to do."
According to Fox News, Johansson has since come under fire for her speech, with many calling her a hypocrite for slamming Franco when she defended director Woody Allen after his daughter accused him of sexual abuse in 2014. Johansson, who starred in three of Allen's movies told The Guardian at the time, "It's not like this is somebody that's been prosecuted and found guilty of something, and you can then go, 'I don't support this lifestyle or whatever.' I mean, it's all guesswork."
While Franco did attend the SAG Awards, he opted to skip the red carpet and continues to keep a low profile in the wake of the controversy.
Source: Read Full Article