SANZAAR will sensationally appoint under-fire Kiwi referees Ben O'Keeffe and Mike Fraser to officiate Super Rugby matches this weekend that once again involve New Zealand teams.
Fairfax Media understands O'Keeffe, who made a number of blunders in the Waratahs-Crusaders match on Saturday, and Fraser, who had a complaint made about him following the Stormers and Chiefs fixture in Cape Town, have been put in charge for more matches with Kiwi sides.
Off: Kiwi referee Ben O'Keeffe sends Waratahs winger Taqele Naiyaravoro to the bin.
While SANZAAR does not announce referee appointments until Wednesday, it is understood O'Keeffe will take the whistle for the Hurricanes and Queensland Reds match in Wellington on Friday evening.
Perhaps even more remarkable is the match, on New Zealand soil, will feature an all Kiwi refereeing team of O'Keeffe, assistants James Doleman and Richard Kelly, as well as TMO Glenn Newman.
It comes just days after O'Keeffe was crucified for missing a deliberate elbow from Joe Moody on Waratahs playmaker Kurtley Beale in the lead-up to a Crusaders try.
SANZAAR later deemed the offence had met a red card threshold and Moody was subsequently suspended for two weeks in an incident that could have had a major bearing on the outcome of the match.
In the aftermath of the Waratahs' 31-29 loss in Christchurch, former Wallabies Stephen Hoiles, George Gregan and Rod Kafer all hit out at O'Keeffe for his performance with the whistle.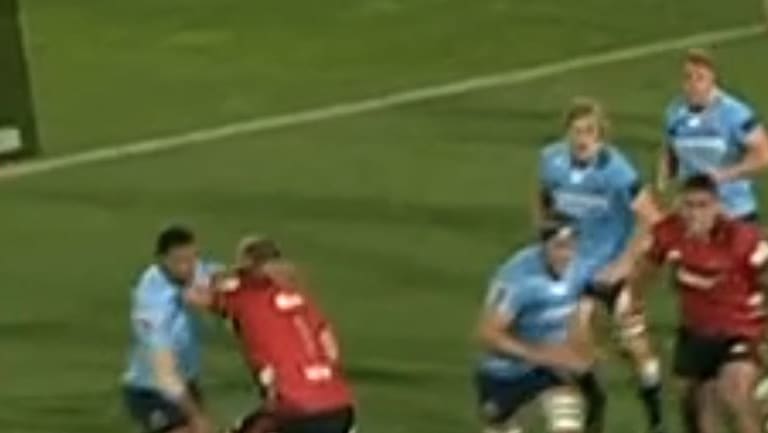 Banned: Joe Moody's raised forearm on Kurtley Beale has seen him suspended.
There has been plenty of debate in recent days as to whether SANZAAR needs to consider appointing neutral referees in such games, so to ensure there is no perceived bias.
Meanwhile, Fraser is set to be announced as the referee for the Sharks-Chiefs match on Saturday in what some believe is an almost inflammatory appointment by SANZAAR.
The Stormers were so furious after their 15-9 loss to the Chiefs on Sunday (AEST) they threatened to complain to SANZAAR referees boss Lyndon Bray about Fraser's performance.
Western Province Rugby Union director of rugby, Gert Smal, told Netwerk 24 he intended to speak with Bray.
"I'm not happy with the referee's performance," Smal said. It wasn't good enough."
SANZAAR is clearly standing strong and not concerned at all by the public perception of letting two Kiwi referees, who have been in the headlines all week, take the whistle for two crucial matches involving teams of their home nation.
Kiwi referee Glen Jackson looked after the 2016 Super Rugby final in Wellington that featured the Hurricanes and Lions, while South African Jaco Peyper was in charge the following year for a decider in his home country.
In a statement last year before the final, SANZARR chief executive Andy Marinos said: "The selection criteria for all match official appointments for the last two years follows a clear tournament policy – as agreed by the SANZAAR Executive Committee and the tournament's stakeholders – that such appointments be merit-based."
Peyper appointment's attracted criticism from World Cup-winning Springboks coach Jake White at the time.
"How do we not have a neutral referee in these games?" White said. "I'm not saying Peyper or any other referee is cheating but the competition opens itself up to criticism by appointing officials with national ties to one of the teams."
Source: Read Full Article