Hugh Hefner's widow opens up about their first night together, the alleged restrictions she had at the Mansion and claims he took so much Viagra, he went deaf in one ear.
Crystal Hefner is the latest to open up about her time inside the Playboy Mansion, giving insight into what it was allegedly like living with Hugh Hefner during his last years.
The Playboy creator started dating Crystal in 2009, when she was in her early 20s. The two got engaged by 2010, before she became his third wife by saying "I do" on New Year's Eve in 2012. They remained married until his death in 2017 at the age of 91.
Ahead of the release of her new memoir, "Only Say Good Things: Surviving Playboy And Finding Myself," Cyrstal spoke with Daily Mail about some of the claims in the book. Though she said she still considers herself "Team Hef" to "a certain degree," it's clear not everything in the release is flattering. According to Daily Mail, she writes in the book that he "dictated" which shade of nail polish she wore, would tap her on the head when her roots were showing and imposed a 6pm curfew so Crystal would join him for a dinner of chicken soup with cream cheese and crackers daily.
After dinner, came the group sex, she said.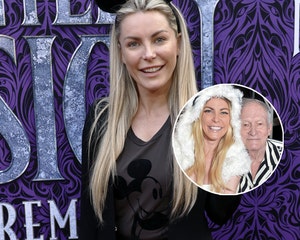 Crystal Hefner Recalls Life in Playboy Mansion, Reaction to Holly Madison's Book While Teasing Memoir
"It was embarrassing. I don't know the most people there'd been in our bedroom at one time but – a lot. Pretty bad," she told the outlet. "We were like, 'Oh, now it's your turn.' Nobody really wanted to be there but I think in Hef's mind, he still thought he was in his 40s, and those nights, the people, the mansion, solidified that idea. He felt, 'I've still got it.' '
She also said he would take so much Viagra that he lost hearing in one side — claiming "Hef always said he'd rather be deaf and still able to have sex. Weird."
Of their first night together, Crystal went on to call it "unremarkable," adding, "Whatever you would like, whatever you would think, or however you would want a night to go, well, it wasn't that."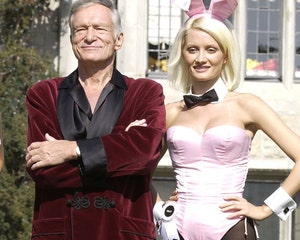 Holly Madison Says Hugh Hefner Shrugged Off Overdose Concerns Over Quaaludes
Looking back at her time with Hef now, Crystal admitted she had a "kind of Stockholm syndrome" and thought that if they truly had "real love" then he wouldn't invite other women into the bedroom. "I reconciled myself to it by trying to believe that Hef loved me as best he knew how," she continued.
She also acknowledged that her own past pre-Hefner contributed to her reasons for staying with him.
"When your family is broken you feel like you don't really belong anywhere. You depend on the kindness of others and you make yourself small to try to fit in. You have no power. Then I met Hef. He lived how the other half lives," she recalled feeling. "You feel, 'Wow, I could belong here too.' At first, the Playboy Mansion felt like a sanctuary. It wasn't. But then you either abide by it or you leave, and I didn't feel like I had anywhere else to go or that I could make anything of myself."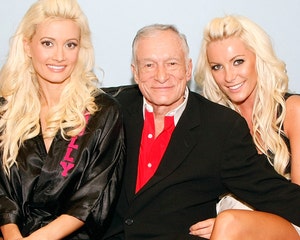 Crystal Hefner Confirms Holly Madison's 'Gross' Polaroid Story from Secrets of Playboy
Looking at old photos of her with Hefner from their earlier years together, she said "it's just so sad" to see how much of a "baby" she looked like at the time. "I look back and I feel sorry for that girl," she continued, saying, "There was going to be this 'Wizard Of Oz' moment where the fantasy fades, you draw back the curtain and see the reality of it. But he who has the money makes the rules, right?"
Crystal said that if she had a daughter of her own now, she wouldn't allow her to follow in her footsteps.
"All I can say is that if you come from a happy, perfect, loving childhood," she concluded, "you don't usually end up with someone who was already 60 years old by the time you are born."
Her memoir, "Only Say Good Things: Surviving Playboy And Finding Myself," is due out January 2024.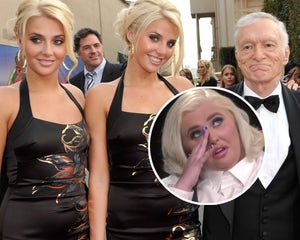 Karissa Shannon Claims She Aborted Hugh Hefner Baby as Twins Speak Out on Secrets of Playboy
Source: Read Full Article